When It's Time To Remodel
If your pool needs an upgrade, call on us for the remodel of your dreams. From basic cosmetic changes like changing your waterline tile or adding tile inserts to more advanced amenities like installing a spa or changing the depth of your swimming pool, we've got you covered. Bruder Poolscapes has the experts in place to handle all of your remodeling ideas to transform your pool into the look you really want.
Call us at 830-660-9042 for a free, no-obligation consultation or schedule an on-site inspection and hear all about your options for an exciting remodel project.
Here are some of the options you have:
Change Shape or Depth
Get a completely new look by changing the shape or depth of your swimming pool. If it's time for a makeover, our design team will deliver for you. Just tell us the new look you want, and we will be glad to advise you on how to expand your pool's footprint, both in shape and depth.
Resurfacing
Over time, a pool's finish can fade or begin to wear. We can resurface it with a brilliant new material to totally transform the look and feel of your swimming pool. Not only does this technique refresh your pool's look, but it can also provide added protection against damage, allowing you to combine beauty with functionality.
New Waterline Tile
New waterline tile is a great accent that can improve the appearance of your swimming pool. Numerous colors and shapes are available for you to choose from. Pick your pattern and change your pool with a simple yet elegant upgrade.
Tile Inserts
Choose from several colors to give your pool a touch of color and added safety: inserts placed onto steps give an element of contrast to provide additional safety when leaving or entering the pool.
Mosaic Tile Inserts
Mosaic tiles can add a unique look when you choose the symbol that suits your style. From geometric patterns to shapes of marine life, a mosaic is a classy way to add a fun element to your swimming pool.
Sun Shelf
Add a sun shelf for an extra surface to lounge on or keep a better eye on smaller children. Perfect for reading and sunbathing. Ask our design experts about size and configuration options.
Therapeutic Spa
Nothing is more relaxing than some blissful backyard hydrotherapy. With jets hitting aching muscles, you get to relax in the comfort of your own backyard while recovering from a hard day.
Natural Rock Waterfall
Add an element of nature to your swimming pool by folding in a natural rock waterfall. This stunning element will give a unique look to your pool, while the relaxing sounds of gentle running water will provide ambiance for your guests to enjoy in your backyard oasis.
Sculpted Rock Waterfall Grotto and Slide
Talk about big-time fun! Install a slide with a sculpted rock waterfall grotto for an out-of-this-world combination that is sure to impress your guests and be the centerpiece of your pool parties and family get-togethers.
Stacked Stone
Weave in stacked stone to your design as an accent within nearby water features or just as a visual detail strategically placed around your swimming pool area.
Sheer Descent
A continuous sheet of water flowing into your pool is a stunning look, and that is exactly what a sheer descent provides. Talk to our designers about how this beautiful amenity can be incorporated into your swimming pool design.
Lighting
If you have basic lighting in your swimming pool and want to upgrade to a remote-controlled, color-changing LED light that makes for some pretty magical ambiance, you have numerous ways to light up your backyard in spectacular fashion.
Misting Systems
Cool off in a fun, visually-striking way during especially hot times with built-in misters. These misters are a neat touch for your swimming pool, while adding that little extra bit of wow factor.
Swim-up Seating
Make your pool more inviting with some built-in seats for a natural gathering place for family and friends. Swim-up seating is a natural fit for some design options, and you can pave the way for a wonderful area for people to gather in the pool and turn into a hub for a quick drink and conversation hot spot.
Pool Equipment
Dedicated Suction Line
Convenience meets cleanliness with a vacuum-style cleaner. A dedicated suction line lets the vacuum operate more efficiently, since the vacuum and skimmer will work independently from one another. With this configuration, the skimmer will remove debris from the top of the water, while the vacuum will remove dirt and debris from the pool's bottom.
In-Floor Cleaning Systems
An automatic cleaning system is a great way for you to save time while protecting your swimming pool and spa. Powerful circulation heads sweep up dirt and debris while removal is made possible with a powered skimmer.
Which Options Do You Want in Your Pool?
If you see amenities above that excite you, talk to our design experts about ideas you have. We'll work in tandem to design the exact configuration you want. If you can dream it up, our builders will make it come true. Contact us at to start planning the swimming pool that you've always wanted.
Build your dream oasis with Bruder Poolscapes!
At Bruder Poolscapes, we believe the pool construction process should be efficient, collaborative, and totally centered around you. If you live in Texas, we're your trusted local professionals. When it comes to your backyard swimming pool, you have a vision, and it's our job to make it come true. We start with clear communication — we guarantee no surprises and always keeping project information up-front and up-to-the-minute. Throughout design and planning and well into construction, we will work together closely, every step of the way.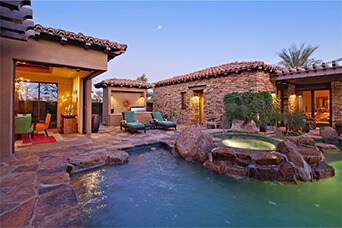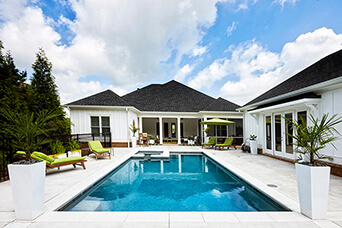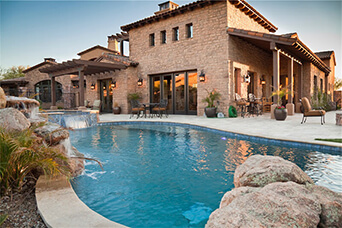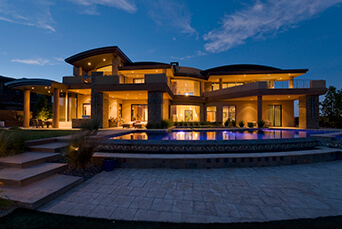 Contact Bruder Poolscapes
If you would like to schedule a consultation with our pool design team or you would like more information regarding new pool construction or pool renovation, please feel free to contact us directly by calling 830-660-9042 or complete the form below.