Pool & Spa Outdoor Living
When it comes to perfecting your personal oasis, the swimming pool is just the start. Add on the amenities you have always wanted, like expertly-designed landscaping, a customized living area, unique fireplaces, soft accent lighting, and other touches that will make your swimming pool area truly special. Our designers will create a plan perfectly tailored to your dream vision, and our skilled construction team will build it into a reality, down to your exact specifications!.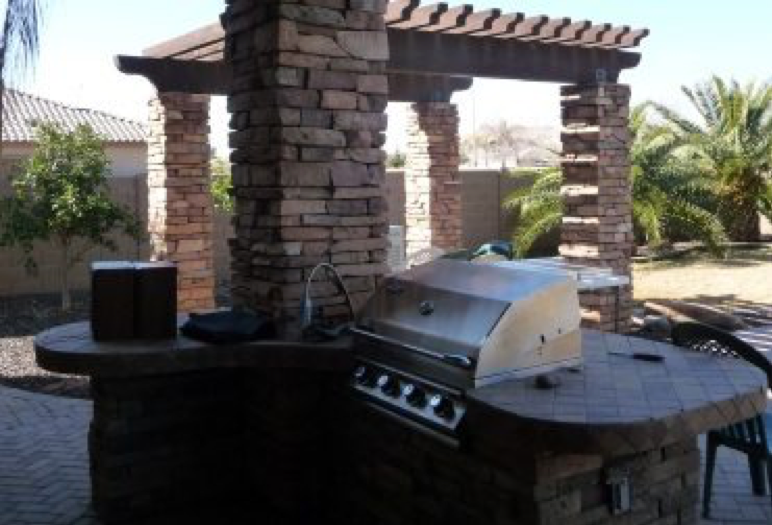 Outdoor Kitchen
Picture this: a cool dip in the pool while flavorful food is being cooked right there in your outdoor kitchen. You have options: an outdoor grill, including a built-in configuration, pizza ovens, wine fridges, customized kitchen areas, and more. Add in some bar seating and the ways that you can entertain are limitless. Plus, with weather-resistant materials like granite, stacked stone, and travertine, your outdoor kitchen area will be beautiful enough to showcase, yet rugged and durable enough to withstand the outdoor elements.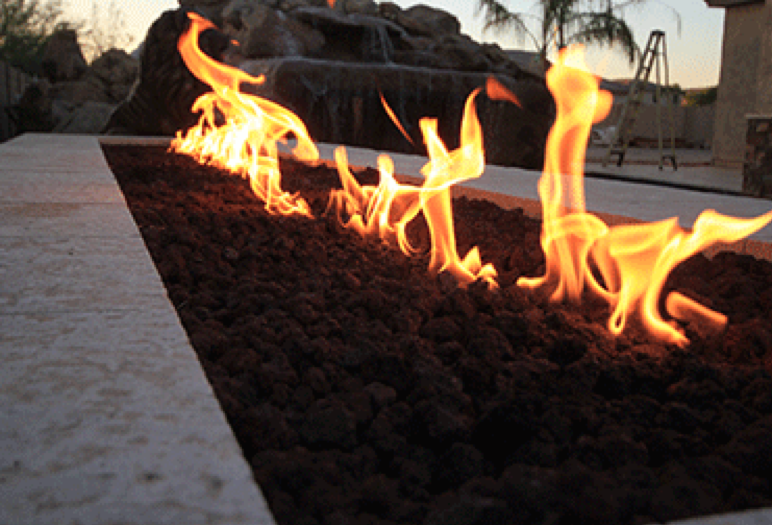 Outdoor Firepits & Fire Places
If chilly weather is on the way, get cozy next to the outdoor fire. Friends and family are naturally drawn to outdoor fireplaces or fire pits, and yours can be the perfect gathering spot for hot dogs and marshmallows with the kids, or doing your best cowboy routine by grabbing a guitar for a singalong. Contrasted against your sleek swimming pool, the glow of your new fireplace or fire pit can be a great touch to round out your perfect backyard layout.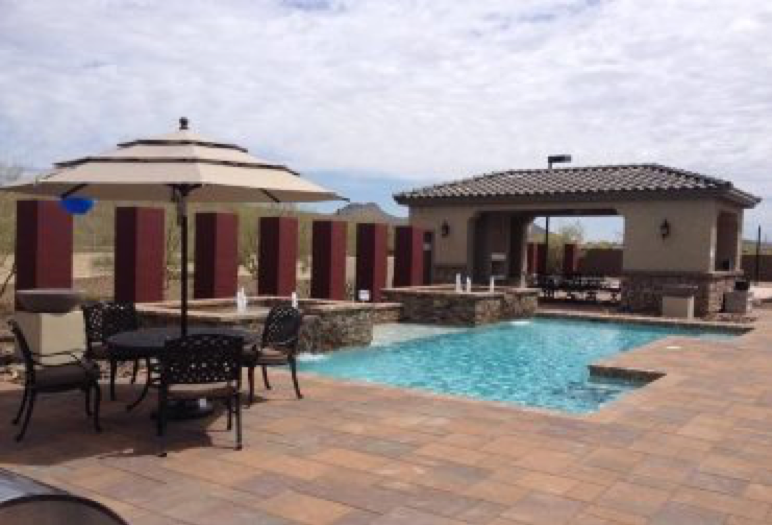 Outdoor Living Rooms
Turn your backyard into a year-round hangout with a sheltered outdoor living room! For hosting or gatherings, the desire to be outdoors is a natural one, and an outdoor living room is a great way for everyone to get together. From unique furnishing concepts to outdoor entertainment centers, you can make this space truly special with bespoke, upscale accents like fine carpentry, tile, and stonework.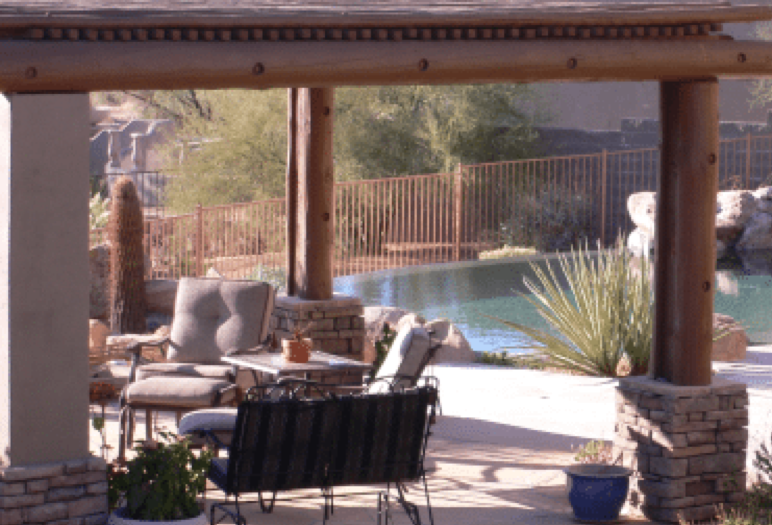 Patio Covers
Get more out of your usable-space area. Tie it all together by extending your outdoor area with a patio cover. This can be a quick and easy way to seamlessly utilize existing architecture and provide instant shelter from the elements while giving you more space to entertain.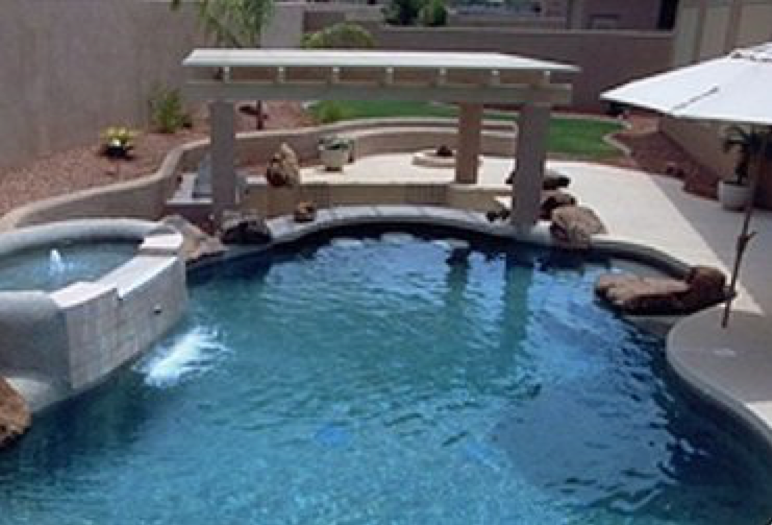 Cabanas, Pergolas, and Arbors
Create the architecture that you've always wanted. From a cabana that can become one of the centerpieces of your backyard, to a customizable pergola or arbor, tell your ideas to our designers so that they can make your creation leap off the design board and into your backyard.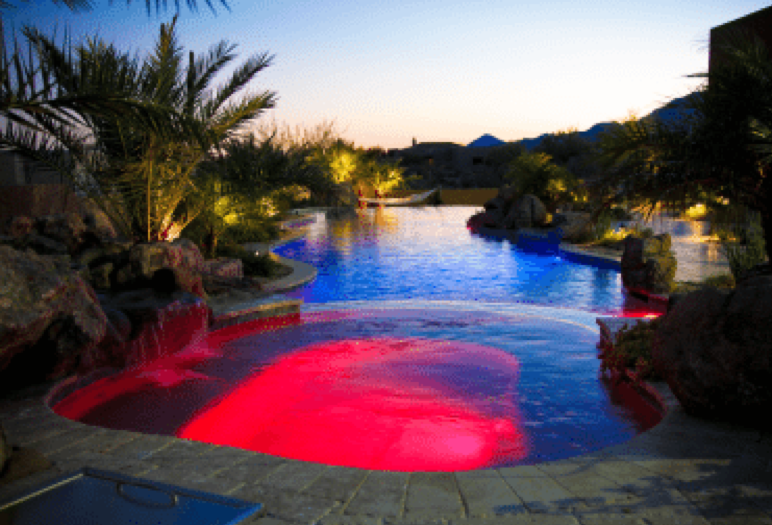 Landscaping and Accent Lighting
The right amount of perfectly-manicured greenspace can tie together your entire backyard as the common thread — surrounding your swimming pool and amenities with the right touch of nature. And as a finishing note, showcase it all: put it under lights. With some soft touches of accent lighting, your backyard complex is a star on its own. Set the tone and mood by installing the right balance of colorful lighting, and you will have completed your perfect backyard portrait.
Build your dream oasis with Bruder Poolscapes!
At Bruder Poolscapes, we believe the pool construction process should be efficient, collaborative, and totally centered around you. If you live in Texas, we're your trusted local professionals. When it comes to your backyard swimming pool, you have a vision, and it's our job to make it come true. We start with clear communication — we guarantee no surprises and always keeping project information up-front and up-to-the-minute. Throughout design and planning and well into construction, we will work together closely, every step of the way.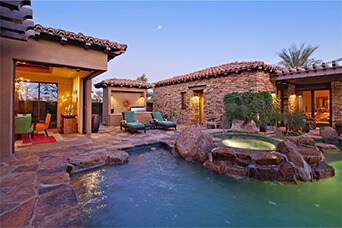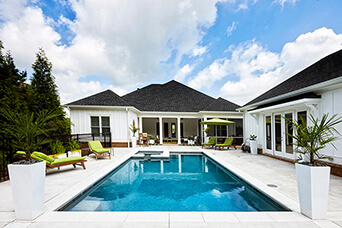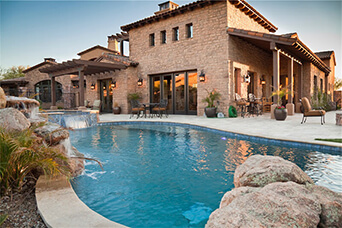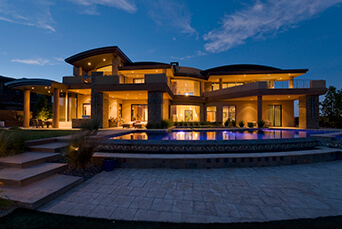 Contact Bruder Poolscapes
If you would like to schedule a consultation with our pool design team or you would like more information regarding new pool construction or pool renovation, please feel free to contact us directly by calling 830-660-9042 or complete the form below.